Beatrice is an Australian brand strategist living in Thailand
_𝘠𝘦𝘱 𝘺𝘰𝘶𝘳 𝘯𝘦𝘸𝘴𝘭𝘦𝘵𝘵𝘦𝘳 𝘮𝘢𝘬𝘦𝘴 𝘮𝘦 𝘧𝘦𝘦𝘭 𝘶𝘯𝘤𝘰𝘮𝘧𝘰𝘳𝘵𝘢𝘣𝘭𝘦. 𝘛𝘩𝘢𝘵'𝘴 𝘢 𝘤𝘰𝘮𝘱𝘭𝘪𝘮𝘦𝘯𝘵 𝘣𝘺 𝘵𝘩𝘦 𝘸𝘢𝘺.
𝘐 𝘯𝘦𝘦𝘥 𝘵𝘰 𝘴𝘵𝘢𝘳𝘵 𝘱𝘭𝘢𝘺𝘪𝘯𝘨 𝘸𝘪𝘵𝘩 𝘮𝘰𝘳𝘦 𝘪𝘥𝘦𝘢𝘴 𝘰𝘯 𝘱𝘦𝘳𝘴𝘰𝘯𝘢𝘭 𝘣𝘳𝘢𝘯𝘥𝘪𝘯𝘨. 𝘐'𝘮 𝘢𝘯 #𝘢𝘯𝘢𝘭𝘺𝘵𝘪𝘤𝘴 𝘴𝘱𝘦𝘤𝘪𝘢𝘭𝘪𝘴𝘵 𝘴𝘰 𝘪𝘵'𝘴 𝘯𝘰𝘵 𝘵𝘩𝘦 𝘮𝘰𝘴𝘵 𝘦𝘯𝘨𝘢𝘨𝘪𝘯𝘨 𝘰𝘧 𝘱𝘳𝘰𝘧𝘦𝘴𝘴𝘪𝘰𝘯𝘴 𝘵𝘰 𝘣𝘳𝘢𝘯𝘥.
𝘐 𝘩𝘢𝘥 𝘴𝘰𝘮𝘦 𝘴𝘶𝘤𝘤𝘦𝘴𝘴 𝘢𝘴 𝘢 𝘱𝘪𝘳𝘢𝘵𝘦 𝘱𝘢𝘳𝘳𝘰𝘵 (𝘊𝘢𝘱'𝘯 𝘉𝘭𝘢𝘤𝘬𝘣𝘦𝘢𝘬) 𝘢 𝘧𝘦𝘸 𝘺𝘦𝘢𝘳𝘴 𝘢𝘨𝘰. 𝘐 𝘮𝘦𝘢𝘯 𝘢 𝘧𝘦𝘸 𝘪𝘴 𝘢𝘤𝘵𝘶𝘢𝘭𝘭𝘺 𝘢𝘭𝘮𝘰𝘴𝘵 𝟤𝟢 𝘺𝘦𝘢𝘳𝘴 𝘢𝘨𝘰. 𝘉𝘶𝘵 𝘳𝘦𝘷𝘪𝘴𝘪𝘵𝘪𝘯𝘨 𝘵𝘩𝘢𝘵 𝘸𝘰𝘶𝘭𝘥 𝘮𝘦𝘢𝘯 𝘤𝘰𝘮𝘱𝘦𝘵𝘪𝘯𝘨 𝘸𝘪𝘵𝘩 𝘢 𝘬𝘪𝘥𝘴 𝘛𝘝 𝘴𝘩𝘰𝘸 𝘯𝘰𝘸 𝘸𝘩𝘰 𝘵𝘰𝘰𝘬 𝘵𝘩𝘦 𝘴𝘢𝘮𝘦 𝘯𝘢𝘮𝘦 𝘧𝘰𝘳 𝘰𝘯𝘦 𝘰𝘧 𝘵𝘩𝘦𝘪𝘳 𝘮𝘢𝘪𝘯 𝘤𝘩𝘢𝘳𝘢𝘤𝘵𝘦𝘳𝘴.
𝘗𝘦𝘰𝘱𝘭𝘦 𝘬𝘦𝘦𝘱 𝘴𝘢𝘺𝘪𝘯𝘨 𝘺𝘰𝘶 𝘩𝘢𝘷𝘦 𝘵𝘰 𝘣𝘦 𝘷𝘶𝘭𝘯𝘦𝘳𝘢𝘣𝘭𝘦. 𝘐 𝘵𝘳𝘺 𝘵𝘰 𝘮𝘢𝘬𝘦 𝘮𝘺 𝘱𝘰𝘴𝘵𝘴 𝘴𝘵𝘰𝘳𝘪𝘦𝘴 𝘣𝘶𝘵 𝘴𝘩𝘰𝘸𝘪𝘯𝘨 𝘪𝘮𝘱𝘦𝘳𝘧𝘦𝘤𝘵𝘪𝘰𝘯, 𝘷𝘶𝘭𝘯𝘦𝘳𝘢𝘣𝘪𝘭𝘪𝘵𝘺 𝘢𝘯𝘥 𝘩𝘰𝘯𝘦𝘴𝘵𝘺 𝘪𝘴 𝘩𝘢𝘳𝘥 𝘵𝘰 𝘨𝘦𝘵 𝘮𝘺 𝘩𝘦𝘢𝘥 𝘢𝘳𝘰𝘶𝘯𝘥.
𝘐 𝘸𝘰𝘶𝘭𝘥. 𝘐 𝘪𝘵 𝘫𝘶𝘴𝘵 𝘪𝘴𝘯'𝘵 𝘷𝘦𝘳𝘺 𝘷𝘶𝘭𝘯𝘦𝘳𝘢𝘣𝘭𝘦 𝘵𝘢𝘭𝘬𝘪𝘯𝘨 𝘢𝘣𝘰𝘶𝘵 𝘵𝘩𝘦 𝘵𝘪𝘮𝘦 𝘸𝘩𝘦𝘯 𝘺𝘰𝘶 𝘴𝘤𝘳𝘦𝘸𝘦𝘥 𝘶𝘱 𝘢𝘯 𝘢𝘯𝘢𝘭𝘺𝘵𝘪𝘤𝘴 𝘴𝘦𝘨𝘮𝘦𝘯𝘵 𝘢𝘯𝘥 𝘨𝘰𝘵 𝘵𝘩𝘦 𝘸𝘳𝘰𝘯𝘨 𝘪𝘯𝘧𝘰𝘳𝘮𝘢𝘵𝘪𝘰𝘯.
𝘐𝘵'𝘴 𝘢𝘭𝘴𝘰 𝘯𝘰𝘵 𝘳𝘦𝘢𝘭𝘭𝘺 𝘵𝘩𝘢𝘵 𝘧𝘶𝘯𝘯𝘺 𝘰𝘳 𝘳𝘦𝘭𝘢𝘵𝘢𝘣𝘭𝘦 𝘣𝘦𝘤𝘢𝘶𝘴𝘦 𝘮𝘰𝘴𝘵 𝘱𝘦𝘰𝘱𝘭𝘦 𝘥𝘰𝘯'𝘵 𝘬𝘯𝘰𝘸 𝘸𝘩𝘢𝘵 𝘢𝘯 𝘢𝘯𝘢𝘭𝘺𝘵𝘪𝘤𝘴 𝘴𝘦𝘨𝘮𝘦𝘯𝘵 𝘪𝘴. N𝘦𝘷𝘦𝘳 𝘮𝘪𝘯𝘥 𝘵𝘩𝘦 𝘩𝘰 𝘩𝘰 𝘩𝘰, 𝘮𝘰𝘮𝘦𝘯𝘵 𝘰𝘧 𝘸𝘩𝘦𝘯 𝘐 𝘮𝘪𝘴-𝘳𝘦𝘱𝘰𝘳𝘵𝘦𝘥 𝘴𝘰𝘮𝘦𝘵𝘩𝘪𝘯𝘨 𝘢𝘯𝘥 𝘸𝘢𝘴 𝘤𝘢𝘶𝘨𝘩𝘵 𝘰𝘶𝘵 𝘣𝘺 𝘢 𝘴𝘩𝘢𝘳𝘱 𝘦𝘺𝘦𝘥 𝘤𝘶𝘴𝘵𝘰𝘮𝘦𝘳.
𝘚𝘰 𝘐 𝘢𝘮 𝘶𝘯𝘤𝘰𝘮𝘧𝘰𝘳𝘵𝘢𝘣𝘭𝘦 𝘣𝘦𝘤𝘢𝘶𝘴𝘦 𝘐'𝘮 𝘳𝘦𝘢𝘭𝘪𝘴𝘪𝘯𝘨 𝘐'𝘮 𝘨𝘰𝘪𝘯𝘨 𝘵𝘰 𝘩𝘢𝘷𝘦 𝘵𝘰 𝘥𝘪𝘨 𝘥𝘦𝘦𝘱𝘦𝘳._
Then she did a video where she basically told me to wake up my inner pirate.
The Blackbeak story goes back to 2005. I created a character called Captain Blackbeak, a play on Blackbeard/Long John Silver except that it was a parrot with one leg instead of a guy.
I used it as a character to replace my somewhat boring image and it was brandable. It worked quite well. Our newsletter was sent to around 15000 small businesses in 2006/7.
The Blackbeak pirate theme was about looking for conversion improvements. We used to have a website called Conversion Chronicles that Blackbeak was the brand for.
The idea was to find the pieces of 8 within your data. Lots of potential pirate references for data. X marks the spot. Treasure maps etc.
SO
Ladies and Gentlemen. I have contacted Cap'n Blackbeak and he's willing to come back. Watch this space.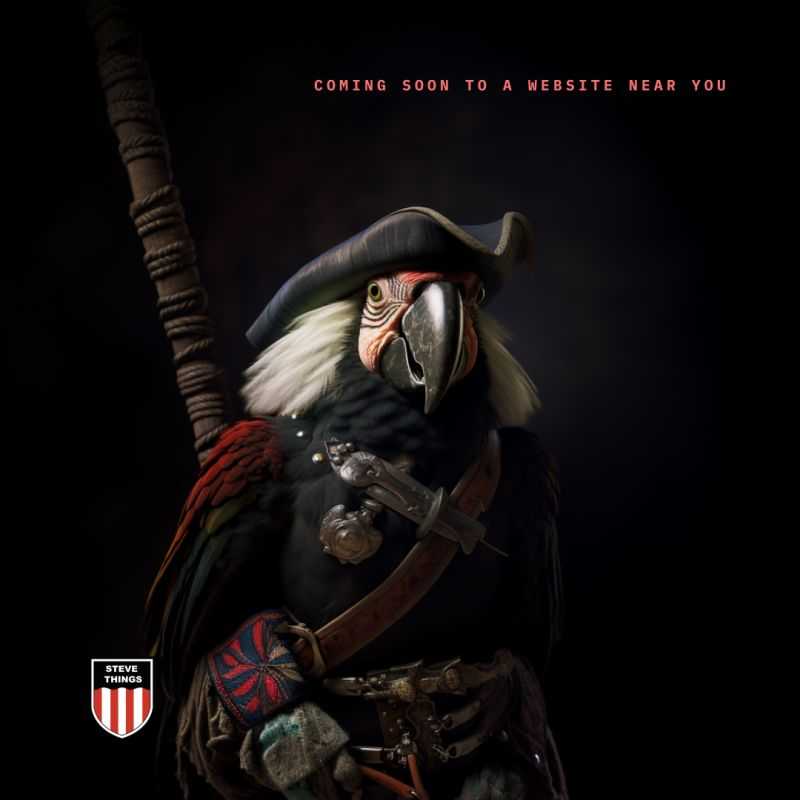 Sign up to the Conversion Chronicles
Every sign up receives a copy of The Sucking Manifesto and I send a weekly insight about how you can start using data in your organisation.